Fashion week is over and life has calmed down long enough for me to finally be able to write this. Usually I am fairly removed from fashion week, but this year was different. This year I was lucky enough to lend my talents to the wonderful designing duo that is The Blonds. Phillipe and David Blond have been creating couture confections for the likes of Katy Perry and Beyoncé for several years now showing no signs of stopping. Phillipe and I initially got to talking via Twitter because of his admiration and my obsessive-compulsive love for Bob Mackie. After seeing my craftsmanship on the blog, Phillipe asked if I would be interested in helping them build their Spring/Summer 2013 collection. How could I turn down such a rad opportunity?!
The invite to The Blonds show - "Beach Blonds"
I was thrown head first into the sparkly mayhem from the moment I walked in their studio. It was wonderful! I was sewing beads, gluing rhinestones, and altering samples where needed.
I look forward to working with Team Blonds again… and again.
Here are some photographic highlights of the collection.
Phillipe on the runway in his Jaws corset
Phillipe exiting the runway.
Everyone backstage was cheering wildly for him!
A backstage look at Phillipe's corset.
A skinny-dipper look... I LOVE HER!
The plexiglass splashes are a stroke of genius.
This dress was the first piece I worked on for The Blonds.
It was made for Phillipe to wear to a party a few days before the show.
Since it worked so nicely with the collection, they decided to put it in!
I was so excited to see her work this look on the runway!
The crystal encrusted finale.
This look was so labor intensive it was constantly being worked on by someone at all times.
It was worth it though, as the end result is amazing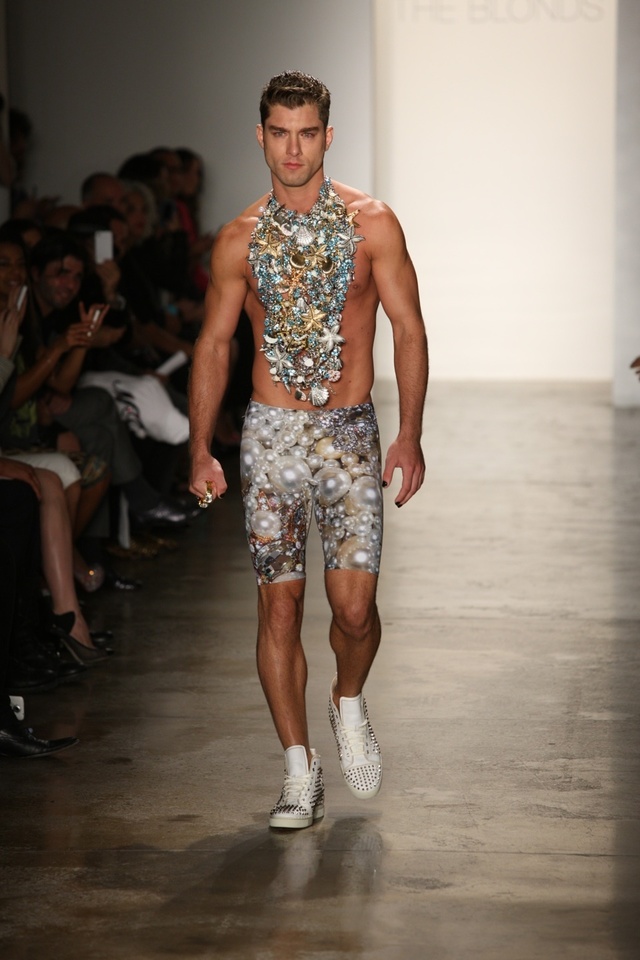 Have to include one of the boys... for good measure.
Phillipe and David triumphantly walking the runway.
Nothing better to close a show with than a sweet sweet hair toss.
Here is the video of the whole show (sadly they had to replace the soundtrack).
Click

HERE

for a photo recap of each look.
-Philip Estrada